We are a group of parents, families, friends, and lesbian, gay, bisexual, transgender, and queer people. We help change attitudes and create an environment of understanding so that our LGBTQ+ family members and friends can live in a world that is safe and inclusive. 
Our Greater Orlando PFLAG chapter was started in 1992 and is here to provide ongoing support, education, and advocacy to all Central Florida parents, family, friends, allies, and LGBTQ+ persons.  We accomplish this through:
Monthly support meetings (multiple locations & online/virtual)
Confidential telephone help-line
Speakers Bureau
Community events
Speak at employee diversity groups and church focus groups
PTA/PTO training and parent programs
Gender and Sexuality Alliance (GSA) groups


Outreach to public middle and high school GSA clubs at Orange & Seminole County Schools
AKA/Legacy GSA Name = Gay-Straight Alliance
Greater Orlando PFLAG's purpose shall be to support the mission and charter of our national parent organization: PFLAG, Inc.; promoting the health and well-being of LGBTQ (lesbian, gay, bisexual, transgender, and questioning) persons, their families, friends, and allies through:
Support for families, allies and people who are LGBTQ
Education for ourselves and others about the unique issues and challenges facing people who are LGBTQ
Advocacy in our communities to change attitudes and create policies and laws that achieve full equality for people who are LGBTQ
PFLAG envisions a world where diversity is celebrated and all people are respected, valued, and affirmed inclusive of their sexual orientation, gender identity, and gender expression.
The idea of PFLAG was founded in 1972 with the simple act of a mother publicly supporting her gay son.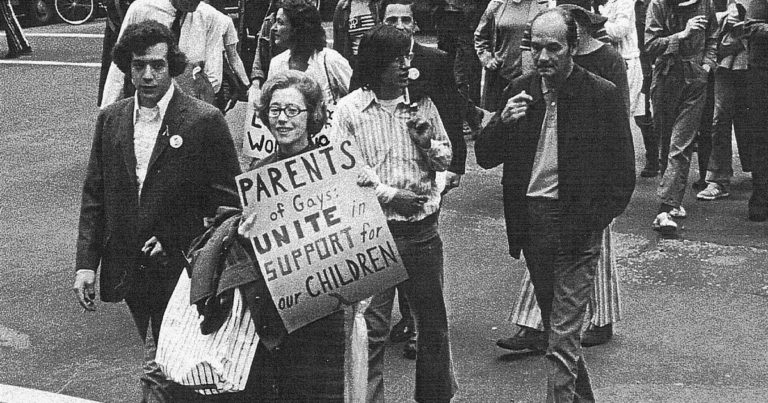 PFLAG, in full Parents, Families, and Friends of Lesbians and Gays, formerly called Parents FLAG, American organization representing the interests of the lesbian, gay, bisexual, transgender, and queer (LGBTQ) community. PFLAG was founded in 1973 and has amassed more than 200,000 members in the United States and more than 500 affiliates, making it the largest membership organization of its kind in the United States. Its mission is to bring tolerance and awareness of LGBTQ issues to the larger society through support, programming, and legislation and to defend human rights of LGBTQ people.
The idea for PFLAG was conceived in 1972 when its founder, Jeanne Manford, walked with her openly gay son, Morty, in the Christopher Street Liberation Day Parade. Angered by the fact that the police had done nothing to help her son after he had been beaten at a gay rights protest two months before, she carried a sign that read "Parents of gays: unite in support of our children." Since she was one of the first parents in the United States to openly support her gay child, many gays and lesbians approached her, asking if she could speak with their parents. That convinced her of the need for a support group, and PFLAG's first meeting was held in March 1973.
In the following years, PFLAG grew to become a safe haven for families of LGBTQ people to seek information and support. Similar independent groups began to form around the country. In 1979 they came together for a national meeting in Washington, D.C., at the National March for Gay and Lesbian Rights and decided to join together as one organization. They were among the first organizations to distribute accurate, positive information about gay people to educational institutions and communities of faith. PFLAG gained serious attention from the public in 1981 when the "Dear Abby" advice column mentioned it as a resource to a concerned parent. In the following weeks, PFLAG received more than 7,000 letters requesting information and help.
PFLAG was also one of the first to take concerns to Congress and state legislators about gay civil rights. The organization also opposed singer Anita Bryant's antigay crusade and lobbied to end the U.S. military's practice of discharging gays and lesbians because of their sexual identities. They establishing successful chapters in conservative areas of the country, long before gay rights issues became popular in the late 1990s. They even gained support from first lady Barbara Bush, whose gay-positive comments were among the first to come out of the White House. In 1993 PFLAG broadened its vision to include bisexuals, and it did so again in 1998 to include transgender people.
PFLAG has expanded its mission not only to be a source of support for parents of gay children but also to support the siblings, children, and friends of LGBTQ people. PFLAG provides support groups and resources as well as comprehensive programs such as Our House to the Courthouse program, which focuses on pro-gay legislation, and Youth and Schools, which gives tools and resources to schools to promote a safe environment for LGBTQ students.
Banales, Meliza. "PFLAG". Encyclopedia Britannica, 13 Sep. 2018, https://www.britannica.com/topic/Parents-Families-and-Friends-of-Lesbians-and-Gays. Accessed 17 August 2021.