Support Meetings are the heart of PFLAG Chapters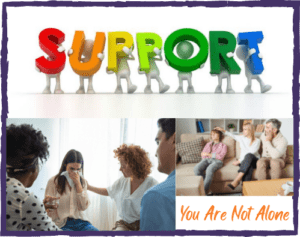 We're Here to Help You!
At PFLAG support meetings, real magic occurs in the lives of countless individuals and families. Our support meetings are free and provide a safe and confidential place for those who are learning to deal with the reality of sexual orientation, gender identity, and gender expression. We provide loving and non-judgmental support for anyone seeking support, education, and/or advocacy related to the LGBTQ community.
Who comes to PFLAG meetings?
PFLAG is not a political or a religious group (in spite of the fact that many meetings take place in churches). Our attendees and members include people of all ages from diverse ethnic, religious, cultural, and economic backgrounds. We are parents, family, friends, LGBTQ allies, lesbian, gay, straight, bi-sexual, transgender, pansexual, and questioning individuals. Sometimes, parents and LGBTQ children come together, on occasion with all of the siblings. Parents come together or singly. Often people bring a friend for support. With this well-diverse group of participants, families/parents, straight spouses, LGBTQ children, and children of LGBTQ persons can find understanding and assistance at PFLAG meetings. Our primary goal is to keep families together!
First Time Visitors
If you will be visiting us for the first time, please review our Support Meeting Guidelines handout. This will help you understand the meeting format and expectations, which will allow you and other attendees to have a worthwhile and safe experience.
Greater Orlando PFLAG - Upcoming Monthly Support Meetings